Pregnancy Chiropractic in Muskegon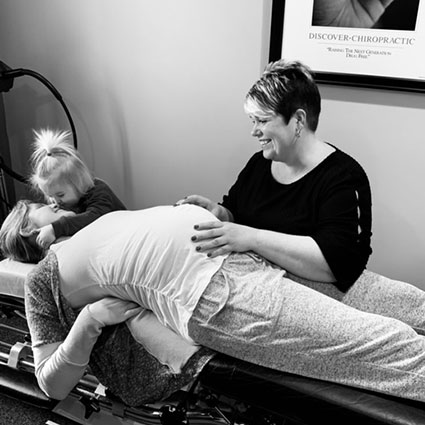 Many women find pregnancy one of the happiest times of their lives, but it can also be one of the most challenging. Your body undergoes tremendous change in a short amount of time, including hormonal fluctuations, emotional issues, and the physical effort of carrying a lot of extra weight. At Lakewinds Chiropractic Center, we love helping moms-to-be enjoy these changes as much as possible, whether it's your first child or your fifth!
We Help Even Before You Conceive
Since stress on the body can affect hormone levels, reducing stress by restoring proper nervous system function can help your entire body function at its best. When your body is functioning as it should, it can help facilitate the process of conception. And getting your body into its optimal state through chiropractic care ahead of time can make for a more comfortable pregnancy throughout.
We Focus on Your Comfort
Dr. Sandra specializes in prenatal and pediatric chiropractic care, and offers various specialized, low-force adjusting techniques to help keep your changing body balanced and functioning at its best. Our techniques are gentle and safe for both you and your baby. Chiropractic care helps keep the pelvis properly aligned, which relieves stress and pain for Mom, and allows space for her baby to get into the best position possible for birth.
Some people think they just have to suffer with pain for nine months, but that's not true. Regular chiropractic care reduces the stress on your nervous system, which can in turn reduce your pain, help you sleep better and keep your body in the best possible condition for delivery. It also reduces labor and delivery times, which makes it easier for both you and your baby to recover.
Optimize Your Pregnancy
It's never too early (or too late) to get chiropractic care to make your pregnancy and delivery as comfortable as possible. Contact us today to book your first appointment.
CONTACT US


Pregnancy Chiropractic Muskegon, North Muskegon, Whitehall MI | (231) 744-5200