Chiropractic Care
Understanding Chiropractic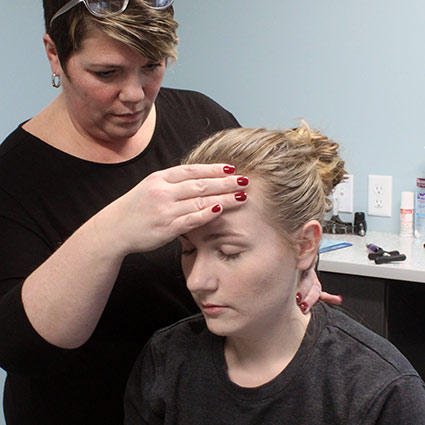 Chiropractic is a method of care that works with the nervous system to balance the body as a whole. Your nerves carry communication from your brain to every part of your body, and when your nervous system isn't functioning properly, this communication gets derailed. Chiropractic care removes the interferences in your nervous system, restores normal communication and allows your body to heal and function optimally.
Customized Care
We tailor care to each individual, making sure that we address the underlying causes of your pain or condition. We use scans and thorough exams to locate the areas of your nervous system that are out of balance, and focus on care there to help restore optimal function and allow your body to heal itself.
Dr. Sandra
explains everything that's going to happen, and help you understand how chiropractic helps create full-body wellness.
In addition to unparalleled chiropractic care, we offer massage therapy and other soft-tissue modalities to facilitate healing. We have a team of licensed massage therapists whose skill is a perfect complement to your chiropractic care. Many people initially seek chiropractic care at Lakewinds Chiropractic Center for back or neck pain, and are surprised to learn that chiropractic also helps with various health issues, including such conditions as:
Arthritis
Disc injuries
Headaches
Joint pain
Migraines
Scoliosis
Sports injuries
Neurological disorders
Gait abnormalities
Digestive issues
And much more
Our Approach to Care
Dr. Sandra offers several adjusting techniques, tailored to each patient's unique needs and preferences. Because we care for many babies & children and pregnant women, we offer some extremely gentle, low-force adjusting techniques. These include
Activator® Methods
Cox Flexion-Distraction
Diversified
Gonstead
Palmer Package
Logan Basic
Sacro-Occipital Technique (SOT)
Therapeutic laser
Thompson Drop
Webster Technique
Mckenzie Protocol
Graston instrument-assisted soft tissue technique
Learn How We Can Help You
Contact us today to learn more about how chiropractic care can help you and your family achieve optimal health. CONTACT US


Chiropractic Care | (231) 744-5200